It is my pleasure to announce the return of builder of the month
Steve Andrew
. The builder of the month (or BOM as commonly referred to) is an award for just one of our members for a display of a selection of attributes i look for in a worthy candidate which include, simbuilding progress, quality, helpfullness in and around the forum to name a few.

Click on "Read More" for full interview.



This months Builder of the Month i'm proud to present to Steve Andrew. His boeing 737 sim has inspired me on what you can do with wood and some good skills, i have followed his progress closely with the help of his very detailed picture progress posts on the forum and admired the workmanship as many of Steves parts are made by hand which is certainly something to be admired. And often, when making things by hand you add your own touch and think outside the box on how to put something together on more than one occasion.




Please see the interview below i conducted with Steve:




1. Hi Steve, tell us about yourself and your familly.

I'm Steven Andrew, originally from South Manchester in the UK but living and working in Cyprus for the last 6 years with my long term partner Samantha, 2 teenage step daughters, 5 rescued cats and a couple of Dalmation dogs. Bit of a mad house.






2. What influenced you to decide to build the Boeing 737 away from all other aircraft?

I didn't really set out to specifically build a 737, i just wanted more realistic flying instead of a desk. I still say my cockpit is generic but it does look a lot like a 737

and it is the only aircraft i fly.What influenced me? I would say the availability of parts (both real and sim) The hundreds of pages of tutorials available online and the popularity of it in the sim community. I didn't want a cockpit too difficult to build for my first attempt, like having to scratch build everything and my hat goes off to anyone who does.



3. Do you have any real aviation background yourself?

Not directly. I'm a mechanical engineer by trade and more specifically a CNC programmer, So i've machined many many components for the aerospace industry, So there might be a few bits and bobs flying around now that i made
My Dad had his ppl and my uncle works for Bae systems as an aircraft fitter.



4. It has often been said Building a flight simulator requires new skills many won't be familiar with. Do you have prior skills in electronics and joinery to put you to an advantage when building your flight deck?

Like i said i'm a mechanical engineer so put me at a milling machine or a lathe and i'll make anything you want from a big lump of metal, I'm not afraid to have a go at something and basic woodwork i find ok as long as i think ahead and don't rush. As for electronics, i just haven't grasped that yet. Until a few weeks ago, the last time i soldered anything was at college in 1990




5. The economic downturn has affected many of us in different ways in the flight simulation community. Has this had any effect on your build?

Yes the economic crisis is a shame and i really hope businesses and people involved in flight simming pull through, Its not affecting me on a personal level as i'm building on a tight budget as it is! And my build is a longterm plan. If i cant have that part or this part now thats fine, I'll get it eventually.



6. You are building many parts yourself as well as purchasing some plug and play units. How has the adventure of building your own parts been?

I have purchased more than i have built at the moment but that should change when i get on with a throttle quadrant, i saw a brilliant tutorial on converting the ch throttle into a 737 one using all the internals, i cant decide wether to scratch build one or rip apart what is a very good throttle to begin with. I enjoyed making the mip (3 times) and im finally happy with that but i still need to do a little work to it, And i have an interim overhead, Its just a print covered in plexiglass with toggle switches connected to a bu0836x card.





7. Have you encountered any problems or restrictions in the build, programming, electronics or software parts so far?

I still maintain opencockpits parts are superb even though the usb cable on mine broke off, that was a problem as i was extremely daunted by the soldering task, The members of this very site gave me valuable advise and all has been well since. as i mentioned earlier i have made my mip on 3 occasions, the first one was rubbish and the second one warped in the heat because i used too thin mdf. My mip actually has 3 17 inch displays behind and i have scaled to accomodate them, its a bit of a work-around but when i already had the screens it seemed a waste not to use them.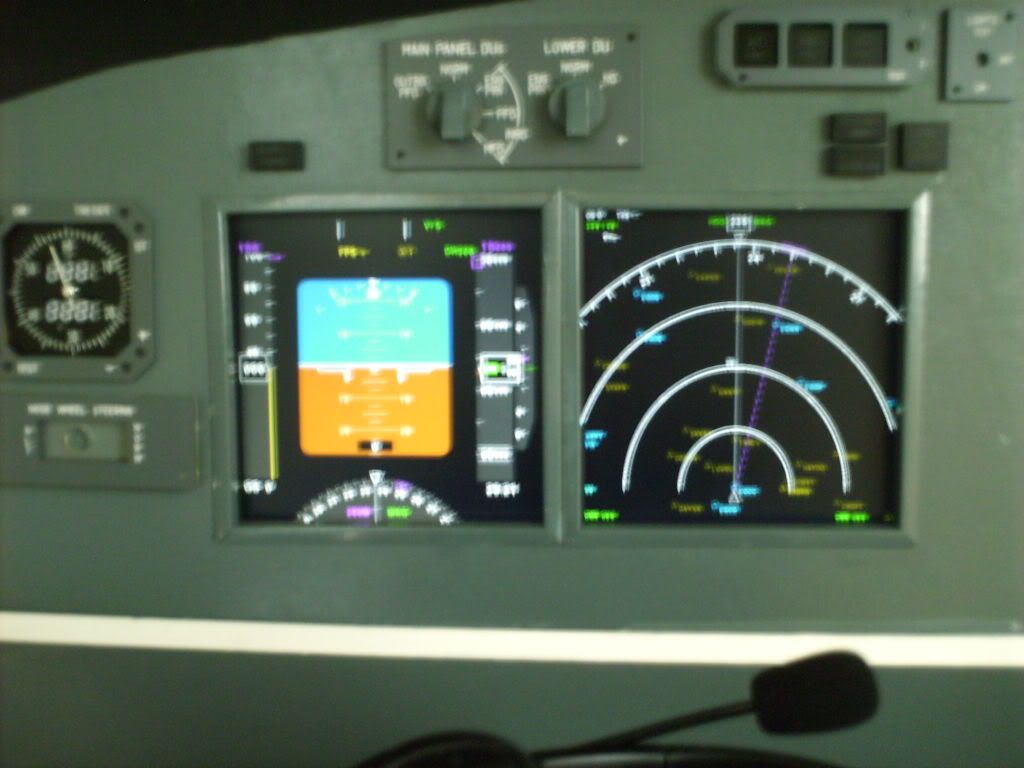 8. Many of us would regard your location in Cyprus as a holiday destination.

And it seems secluded as far as flight simultor builders locations are concerned. Are there any other builders you know around your area?


Cyprus is very much a holiday destination, but you look at these places very differently when you actually live and work here. Other than that its a case of relying on the Cypriot postal service to get my mail orders here in one peice

sometimes i can order something from Germany or Spain and track it here to larnaca airport in 24 hours, it then takes 2 weeks to get to my door

But thats the way of life here and i wouldn't change it. I think Greece has a very strong flight sim community and Turkey too, they are not to far away, and anyone planning a holiday here, let me know and come and visit



9. One thing that fascinates us most is progression. Could you provide us with a before and now (latest) picture of your build.

Accompanied with a brief description.

Thats a hard one because i actually started with just a box placed over a monitor and it was absolute rubbish, but i had to start somewhere i suppose lol. It was probably at this point when i seriously started researching putting together a useable and partly working cockpit.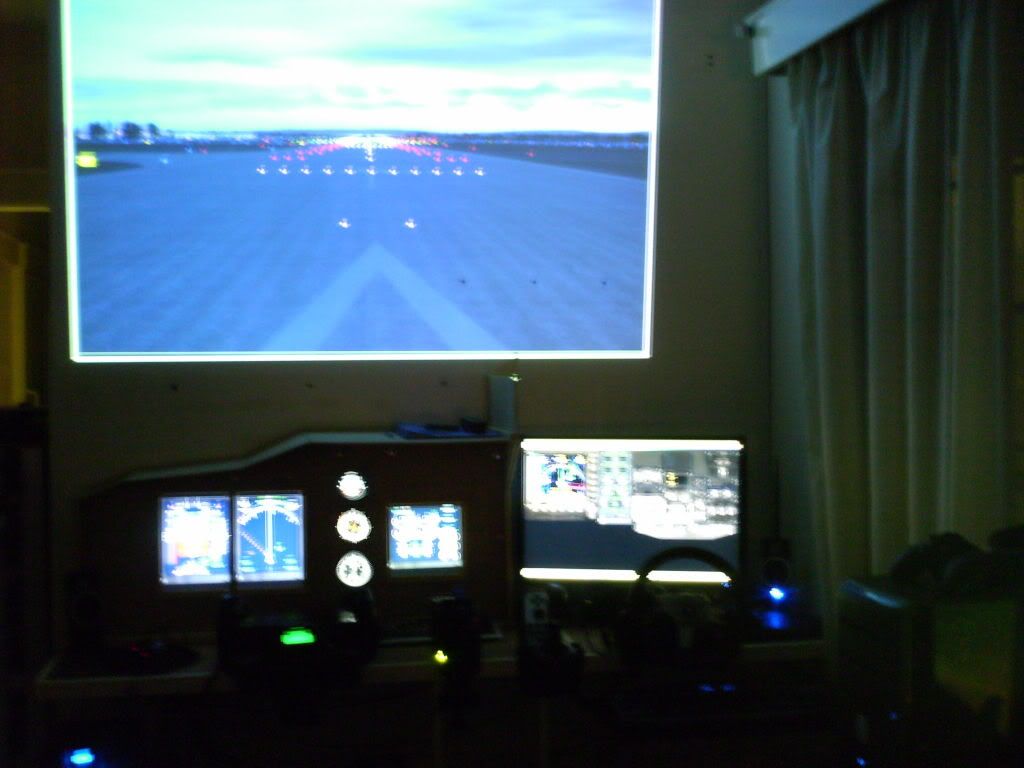 I was actually using default undocked instruments at this point.






Then came my 1st full size Mip which failed due to being to thin and my 1st hardware purchase, the excellent open cockpits multi radio.


10. Do you have any hints or tips you have picked up throughout your build you'd like to share with the readership?

Dont be afraid to ask even the most basic questions, I have asked some real dumb ones on here

but i have never been flamed by any member and only received encouragement and support. If a build is planned allocate some time to research everything. Be patient and if your on a budget dont be afraid to purchase used hardware. We are all flight simmers and chances are if you buy something used it will have been well looked after by a fellow builder.


11. Is there any other aircraft you have a particular passion for besides the Boeing 737?

The Airbus A380 just blows my mind because of the sheer size of it, i would love to see it in the flesh sometime soon, but somehow i don't think it'll be touching down at Paphos "international"
The Avro Vulcan is another great favourite as a lot of them were built at woodford which is just down the road from Stockport, my home town. I used to go to a lot of airshows and remember seeing the sr72 at Mildenhall. It just took off and disappeared vertically.. awesome.



12. Notably the visuals for your flight deck look very good... Could you tell us what your setup is for this and how it runs from the computer(s)?


The visuals were achieved a little by accident, I was planning on projecting onto a normal screen from behind the pit, but because im not fully enclosed in a shell i got annoyed by having furniture and cats etc in my peripheral vision, of course that can be solved with 3 screens and a shell, but i haven't got that kind of cash.
I stretched a cheap shower curtain across a wooden frame and secured it about 8 inches away from the centre post of the windscreen, So all that is possible to see from the captains seat is the screen. I rear projected onto that and played about with the zoom/fov and was quite suprised how good the results were. I have an acer x1160 projector running a resolution of 1280x1024 and its positioned about 3mtrs from the front of the pit. The main fsx pc runs the pj from a 640 meg 8800gts graphics card, a secondary 9500gt gpu runs the captains displays ( split to Fo side too ) The eicas is run from a very old amd 2600 pc over a network. At this moment i have no stand by gauges as whichever pc i try to run them on, i get a bad framerate hit.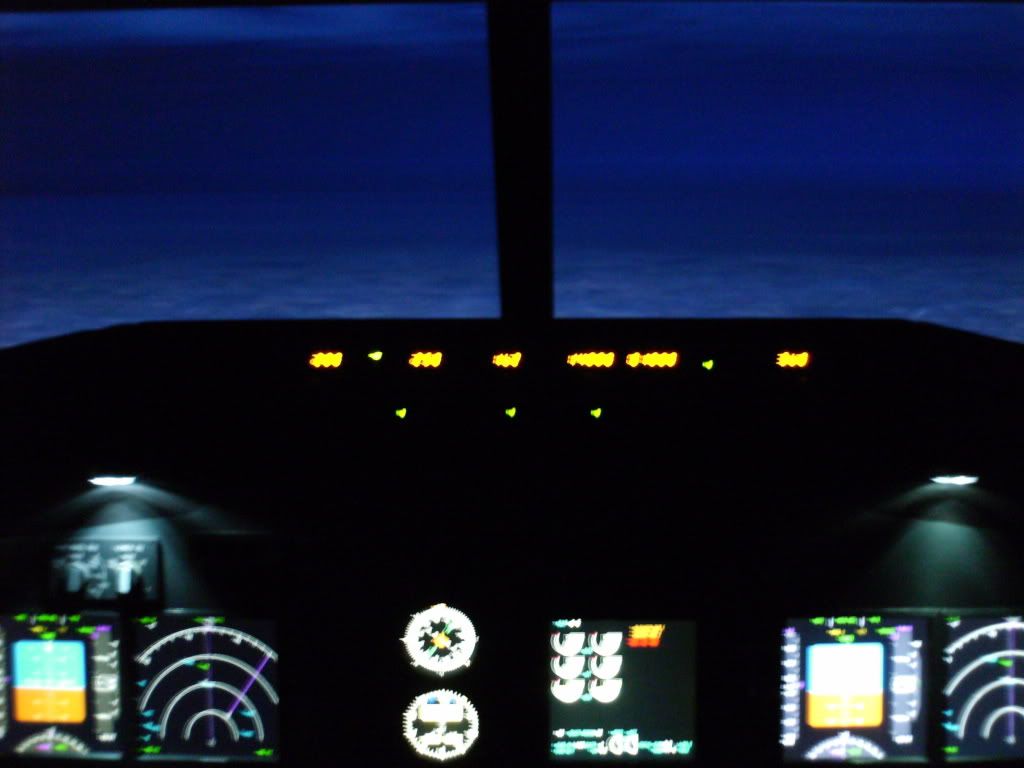 13. Do you have any add on scenery softwares to enhance your flight simulation experience?

I have Ultimate terrain Europe, Real enviroment extreme, Voxatc, My trafficx and a number of addon airports like mega airport Heathrow and Vfr london, Although im having some teething problems with getting My traffic and Voxatc to play together nicely. I like the look of Active sky advanced.


14. Do you intend to upgrade to backlit panels in the future?

Absolutely, I'll soon be researching which output card will suit my needs best and then it'll be a case of removing the mip panel and cutting out the spaces required for backlighting the different panels, I shone a torch behind my landing gear panel and instantly decided that was the way to go.


15. What are your future plans for the sim?

Nothing really specific, who knows in 5 years time i might have all my dreams of a shell, profesionally built overhead and throttle quadrant, In the short term i'm just going to keep adding panels and wire the switches and lighting. The three biggies i'm aiming for is throttle, overhead and yoke... Homebuilt probably unless i'm lucky enough to see them within my budget.


16. Where would you see yourself with the build at the same time next year?

Hopefully with at least one of the above 3 big purchases or builds completed. And i really hope i'm more confident and more clued up with the electronics side of things.


17. What is your wife's view on the simbuild and receiving this award?



Samantha thinks i'm odd

and i have a weird hobby, But she's happy it keeps me out of the pub

I think she realised how much this means to me when she witnessed my reaction on receiving the award. She pops up to my room now and again and looks interested but i think she prefers her cats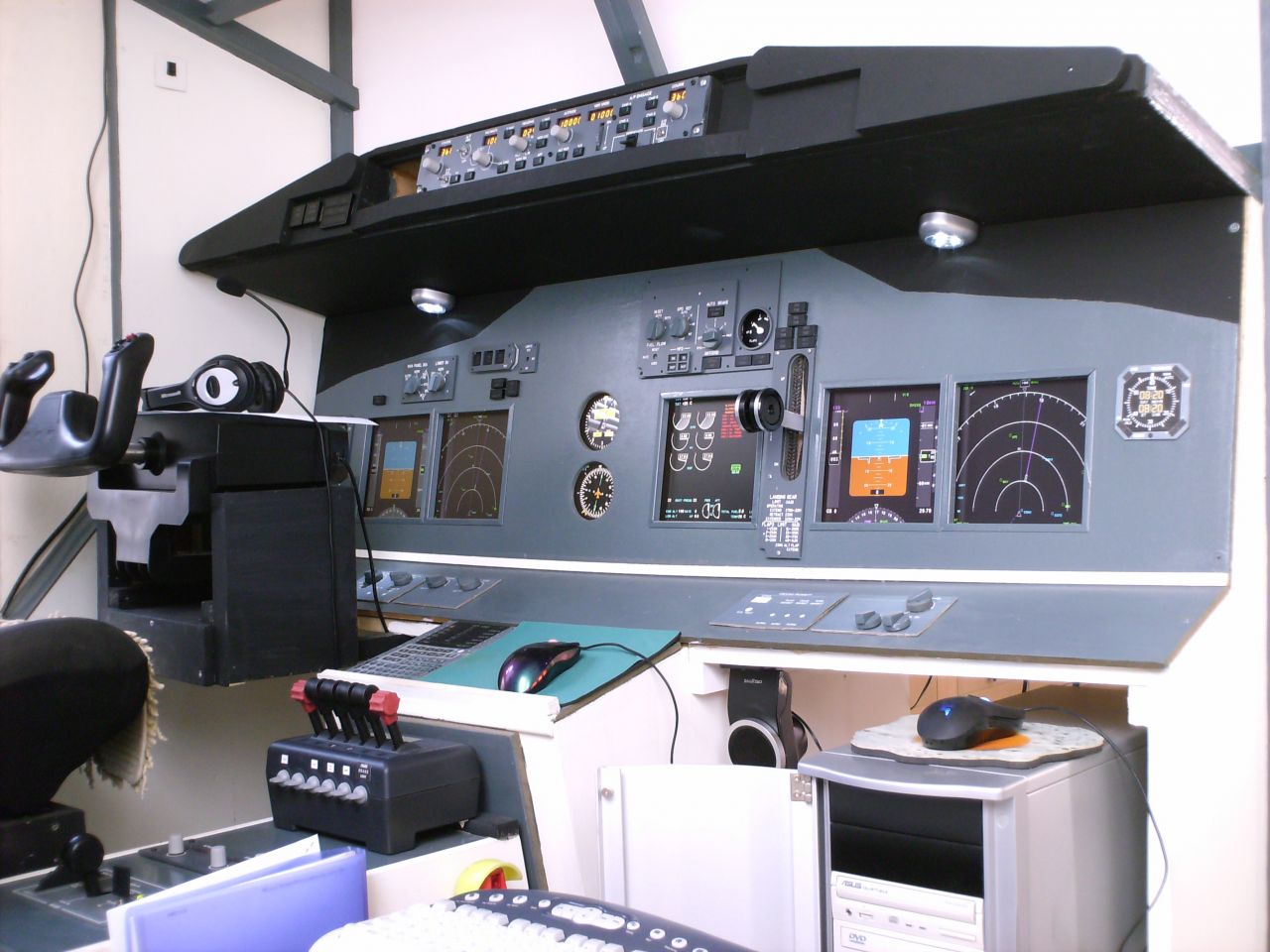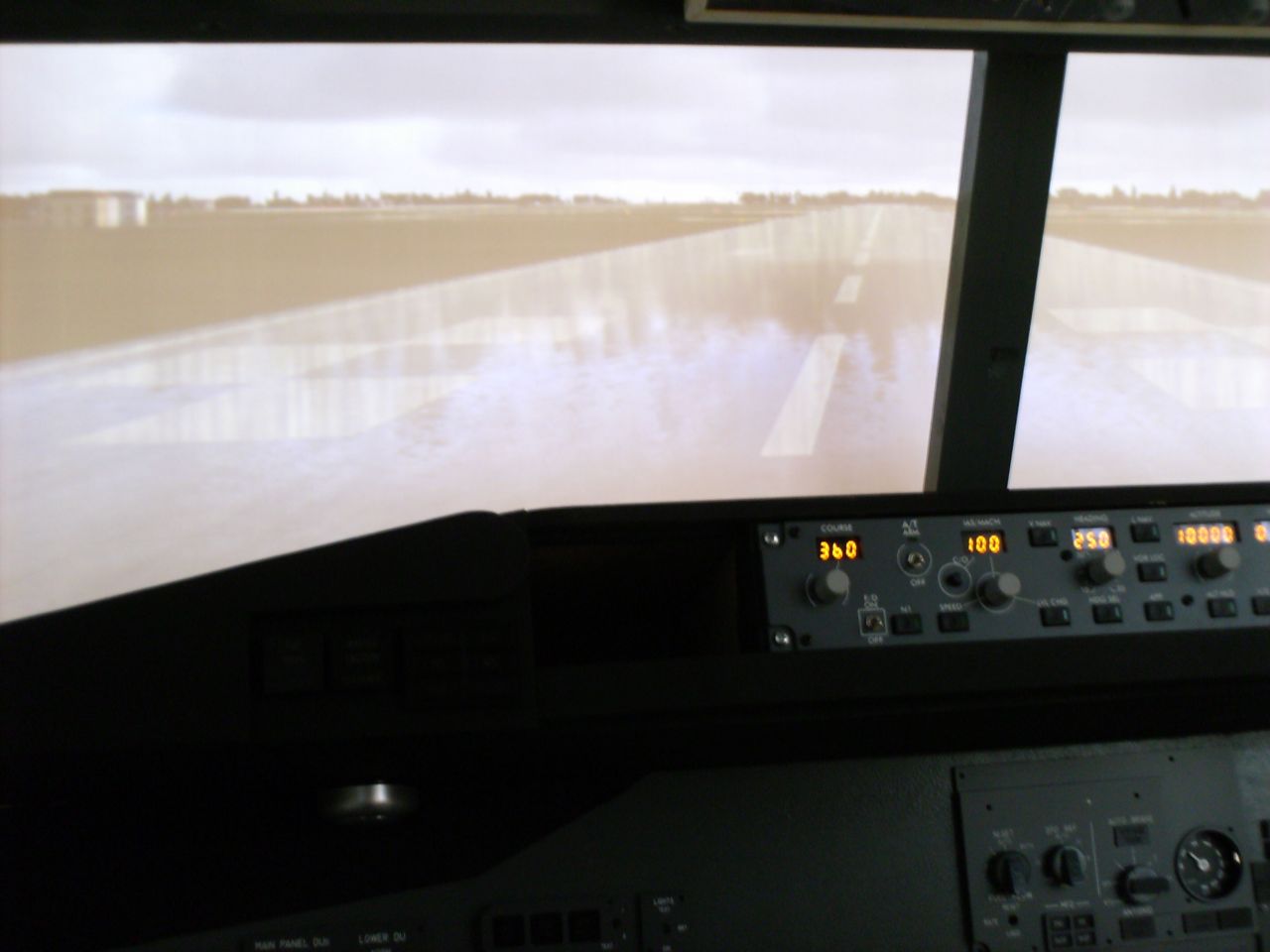 --------------------------------------------------------------------------------------------------------------------------------------------------


Steve, I'd like to thank you very much for participating in the interview and answering the variety of questions i had for you. I will continue to enjoy your simbuild as will many of us in the forum and please remember to keep the diary type posts of progress in the forum.

Best of luck in the future with your simbuild.



Interview conducted by Geremy L. Britton on behalf of MyCockpit,inc.